Rely on Kojima Law Offices to succeed in Japan
Rely on Kojima Law Offices to succeed in Japan
For over three decades, we have helped clients navigate the cultural and linguistic intricacies of doing business in Japan. We handles inbound/outbound investments, commercial transactions and corporate legal matters of all types for clients of various nationalities, industries, and sizes. Our clients include both corporations and individuals from Asia, America, Europe, Oceania and Africa, and range from global conglomerates and foreign governments to start-up businesses.
Your partner in business
One-Stop Legal Services
We are a one-stop, full-service firm providing comprehensive legal services in all areas of general corporate law, including commercial contracts, intellectual property, regulatory matters, commercial litigation and dispute resolution. We help businesses set up an office or branch in Japan, establish joint ventures, form strategic alliances, and facilitate mergers and acquisitions. Beyond the initial phase, we also assist foreign companies to resolve day-to-day issues that arise in their ongoing operations, whether those issues are domestic or international in nature.
We tailor its approach to provide clients with the best possible service while at the same time minimizing costs. To accomplish this, we assign matters to the attorney with the lowest billable rate who has the experience and expertise required to adequately handle that matter. When necessary, we scale up by creating teams of multiple lawyers to handle bigger, more complicated matters.
Beyond the Legal: Cultural and Linguistic Issues Are Crucial
Establishing and running a business is difficult even under the best of circumstances. Throwing cultural and linguistic issues into the mix can quickly lead to a very challenging business environment. These obstacles can get in the way of quick and decisive action, which is often necessary for investors to succeed. This is often true even when a foreign investor has local staff working on the ground in Japan.
We bridge these gaps, freeing our clients to focus on their investments. Our method is simple yet effective: we start with the law, factor in differences in culture and business customs, and provide clients with clear, practical, and proactive advice. Using this formula, we have for many years worked directly with foreign companies to assist them with the myriad of legal issues that their Japanese subsidiaries face in Japan. We provide legal opinions, comment on any relevant issues, and respond directly to questions from the foreign investor's legal department or attorneys.
The map below shows where our foreign clients are based, as well as the countries where we have helped clients conduct business.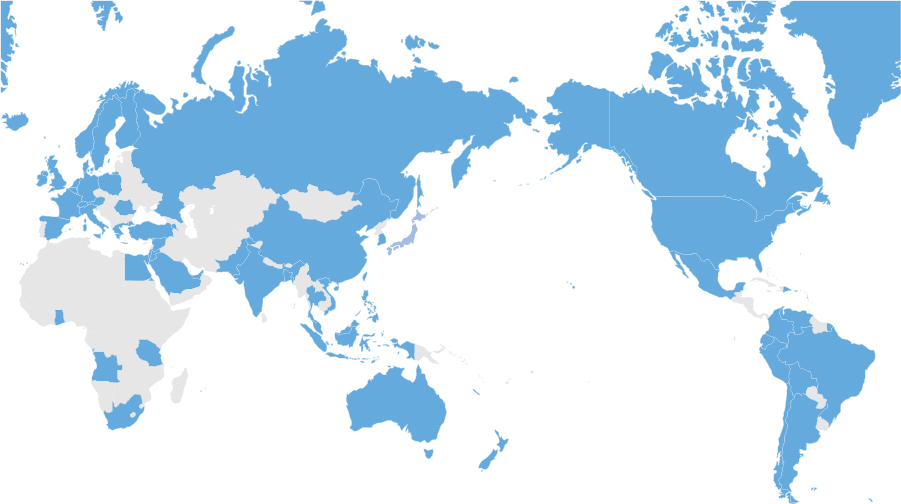 WORLD MAP
Strong International Focus
To properly service our clients, knowledge of Japanese law is just the starting point. That's why many of our lawyers have studied overseas and are licensed to practice law in jurisdictions other than Japan, including New York, California, Washington, DC, Hawaii, Canada, and New South Wales (Australia). Our lawyers have further broadened their international reach by working at law firms in countries such as the US, the UK, Germany, Australia, Thailand, India and Brazil. Lastly, we cement its international bona fides by employing foreign attorneys from both the US and Canada. These lawyers are well-suited to working with our international clients and cases due to their knowledge of foreign law and business culture, as well as their native English-language skills.
We leverages our strengths to ably assist foreign investors, regardless of their size or industry. Specifically, we represent clients in the following industries: automobiles and automotive parts, chemicals, medical equipment and medical testing, semiconductors, food and beverage, clothing and apparel, musical instruments, printing, pre-paid cards, cable and optic fiber manufacturing and other infrastructure industries, shipping, insurance, banking and finance, securities, housing and construction, software and IT, consulting, and advertising. Most of our clients operate globally, particularly in Asia, North America, and Europe.
From Start to Finish, We've Got You Covered
We assists clients at every stage of their business.
Entering the Japanese market
A foreign-based company typically enters the Japanese market in one of two ways: (i) establishing a subsidiary or branch in Japan, either alone or with a joint venture partner; or (ii) acquiring shares in an existing Japanese entity. Whichever one the client chooses, we provide the necessary assistance both in terms of the legal requirements and any delicate business customs and negotiations. For more, go to "STARTING A BUSINESS IN JAPAN".
Ongoing operations
Beyond the initial set-up phase, a company needs to contend with a myriad of legal and regulatory issues in its day-to-day business operations. We offer a wide range of services to keep our clients on the right track, allowing them to focus on their core business instead of dealing with bureaucratic red tape. For more, go to "ASSISTANCE WITH ONGOING OPERATIONS".
Exiting the market
For a variety of reasons, companies sometimes need to alter their business strategy or even exit the Japanese market altogether. We guide our clients every step of the way to ensure that the process is as smooth and as risk-free as possible. This is especially important in Japan, where downsizing can be complicated and expensive, and failing to protect the company's carefully cultivated reputation and good will can make it difficult to shift to another business or later reenter the market.
Flat Fee Packaged Services
We offers certain services at flat fees rates, including those below.
Company Incorporation
We assist clients with every stage of incorporating their Japanese subsidiary or branch office. This package includes: (i) advice on the appropriate type of corporate entity for a given business; (ii) preparation of all necessary documentation, including the articles of incorporation and shareholder registry; (iii) all steps required to register the new entity; and (iv) preparation and completion of all regulatory filings.
Incorporation Document Review
All of a company's corporate documents are required to be in Japanese. As a result, foreign-based companies can often lose track of what their subsidiaries are doing, or fail to realize that they need to update their corporate documents due to regulatory requirements or changes to the Japanese subsidiary's business operations. Beyond the language barrier, the local office sometimes neglects to prepare the necessary documents due to mere oversight or because of a lack of resources to follow the correct procedure. We can review and update the relevant documents so that they satisfy all requirements and are in line with the company's current business circumstances.
Routine Documentation and Registration Services
We assist clients with drafting routine mandatory corporate documents such as shareholder meeting minutes to pass certain resolutions (to, for example, approve the company's financial statements) and re-appoint or replace directors. We also assist to register directors with the local legal affairs bureau.

Moreover, companies in Japan must register and keep updated certain basic information, such as the amount of the company's capital, the number of shares both issued and outstanding, and the names of its directors. A company faces the possibility of substantial fines for failing to keep its corporate registry complete and up-to-date.